On the 28th April I went on a European coaster tour covering seven parks, with Coaster Breaks. This was a thoroughly enjoyable trip, with a tour consisting of 7 people plus the tour guide, with all transport, hotels, breakfast and park tickets taken care of.
I've been trying to plan a Europe park trip for a while, but I went for Coaster Breaks instead as it was not an easy thing to try to plan, especially only using public transport, and I'd rather experience new parks as part of a small group rather than on my own. The other advantage of going as a group, guided by somebody who has visited the parks numerous times before, is that they know what order to do things to maximise the day and stay ahead of the crowds.
I've never visited any of the parks on this trip before, so all the coasters and parks are new to me. I'll go through each park briefly with what I liked/disliked – I'm not going to cover every coaster as I'd be here forever.
Park 1 – Walibi Belgium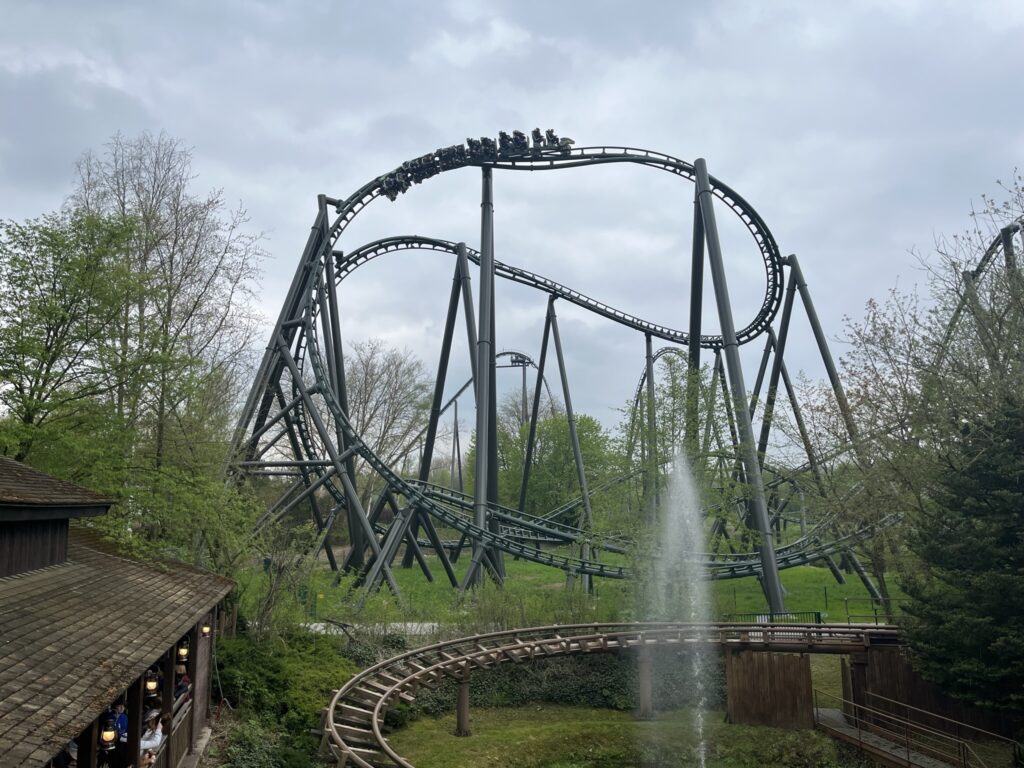 Our first park was Walibi Belgium, I liked this park and the selection of rides. It wasn't too busy so we were able to get a few re-rides on Kondaa, an Intamin mega coaster with a decent ride length and loads of airtime. I loved this and it was instantly put into number 1 place in my top 10 steel coasters. The restraints on the new Intamin trains are also a vast improvement over their older style.
Other rides of note are Loup-Garou, a Vekoma woodie, and Pulsar, a Mack powersplash with LSM launch. – this was a lot wetter than I was expecting.
I enjoyed this park and a good start to the trip, and a park I would look at returning to in the future. The food/drinks were quite expensive but Belgium does tend to be more expensive in general, although the merch was reasonably priced with t-shirts being around €15.
This ride was home to the first Vekoma SLC of the trip, it was as you'd expect from an old SLC – lots of head banging off the restraints and a pretty rough ride. Get rid and put something decent there.
Park 2 – Movie Park Germany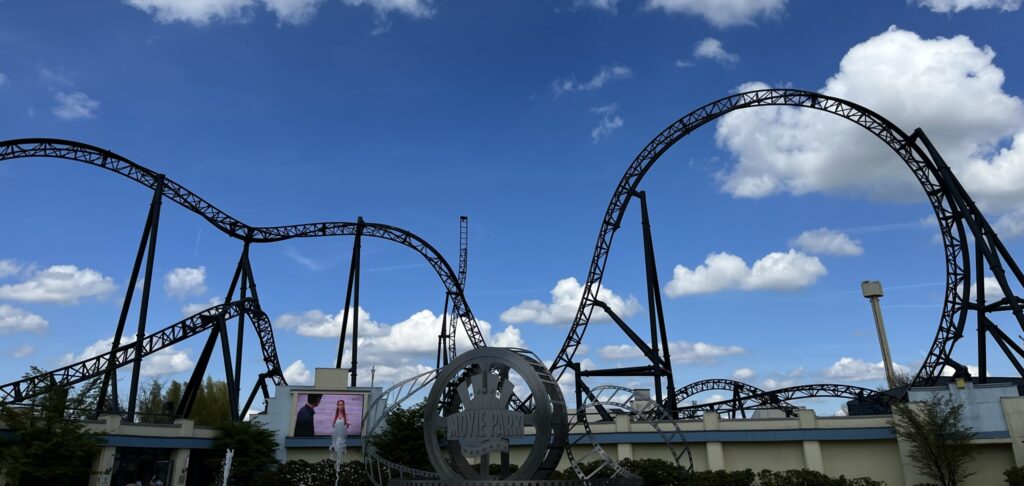 Movie Park Germany has an impressive entrance, and decent theming mostly (except for the Vekoma SLC which just seems to be dumped there). Again, standard SLC meant a rough ride with a battered head off the restraints.
There wasn't really a stand-out ride at this park, there was Van Helsing's Factory, an indoor Gerstlauer Bobsled which had some good effects, Studio Tour, a (mostly) indoor Intamin Multi-Dimension coaster which was well themed but the coaster itself wasn't the best layout. The best coaster would probably have to be Star Trek: Operation Enterprise, which is a Mack multi-launch coaster with a rollback element.
I had a good day here however I don't think I'd return unless a major new coaster was added to the line-up.
Park 3 – Phantasialand
Phantasialand didn't look too impressive from the outside – all we could see was the corrugated metal back of the park theming elements – but once we got into the park it blew me away. Amazingly themed areas, not a huge park but a great selection of rides. The stand out rides for me were:
FLY: A Vekoma launched flying coaster. A good ride, although not featured in my top 10 as I find flying coasters uncomfortable, but the way the trains change from seated to flying was ingenious – the track twists 90 degrees sideways and the seats then rotate 90 degrees. None of the clunky mechanism we've been used to with the likes of Air/Galactica.
Taron: An Intamin multi launch coaster. This went straight in at number 1 in my top 10 steel list. I've only previously experienced Mack LSM launches, and wow the Intamin version was so fast (and loud). Unfortunately a long wait for this coaster, and we queued for another go later in the day but it didn't happen, it was having a bad day – most of the day running 2 trains, when put up to 4 it kept having technical issues.
Black Mamba: A B&M invert, it was a much longer ride than I was expecting, beating Nemesis in my ranking.
I enjoyed the day at Phantasialand and can't wait to return at some point to spend a couple of days there.
Park 4 – Toverland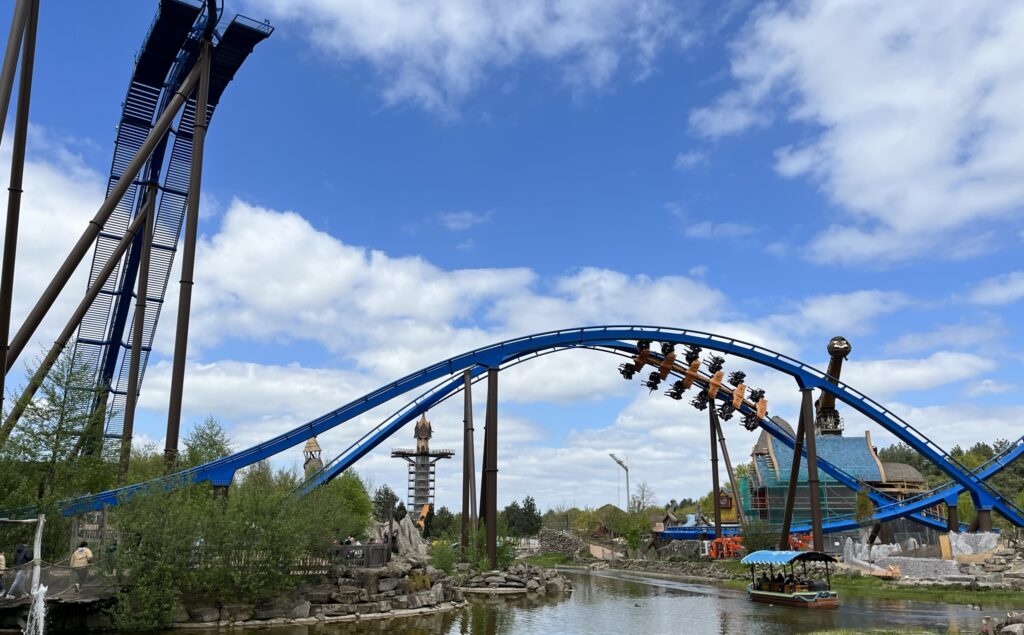 I'd not really heard much about Toverland before visiting, so wasn't sure what to expect. As with Phantasialand though, the theming in some areas was top level. The ride operations were really efficient here so we managed to get plenty of re-rides in. The two coasters which made it into my top 10 were:
Troy: a GCI woodie, I think it definitely needs a bit of TLC to the trackwork as it's rather bumpy, but it's still a brilliant, wild and fast ride.
Fēnix: a B&M wing coaster. While quite a short ride, each element worked really well to make a great ride. The area it stands in is really well themed too, and at the time of my visit was currently being expanded.
Toverland is another park I'd love to re-visit sometime.
Park 5 – Walibi Holland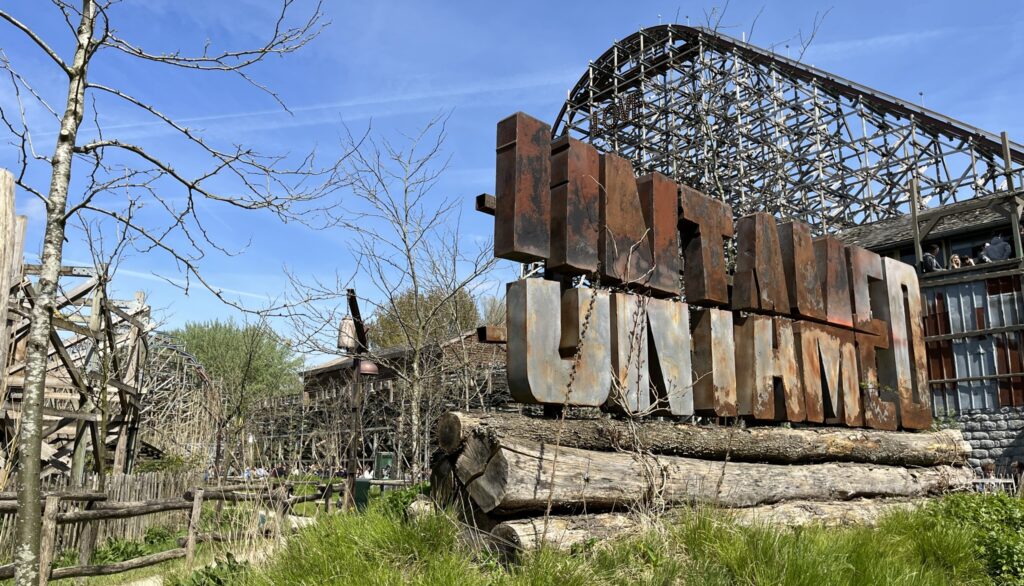 Wailibi Holland – home to a prototype SLC, with new vest style restraints. Interesting, you'd hope it rides a lot better than a standard SLC but you'd be wrong. While the head battering was gone, the track profiling was so bad it felt like it was bouncing along on square wheels.
Moving on from the awful SLC, the park had a rather strange feeling – some areas just looked like somebody had sprayed graffiti over an existing themepark, the park in general had a "Thorpe Park" feeling about it, which isn't a bad thing. A good selection of big coasters, the highlights being:
Goliath: An Intamin mega coaster, this was great and included some track over a lake, followed by plenty of airtime hills. Not as good as Kondaa but it's not really fair to compare a 20 year old coaster with a 2 year old model.
Lost Gravity: a Mack BigDipper, painted yellow and black. This was a really fun coaster and my first Mack BigDipper model.
Untamed: My first RMC! Untamed is an RMC conversion of the former wooden coaster Robin Hood. Packed full of airtime and a fast and wild ride – they extended the length but cut the ride time in half – this was amazing. Would be nice to see better restraints developed for RMCs though, perhaps something a bit more like Intamin use as it was rather painful on the thighs by the 5th airtime element (of a reported 14 total)
Another park I'd love to return to someday.
Park 6 – Efteling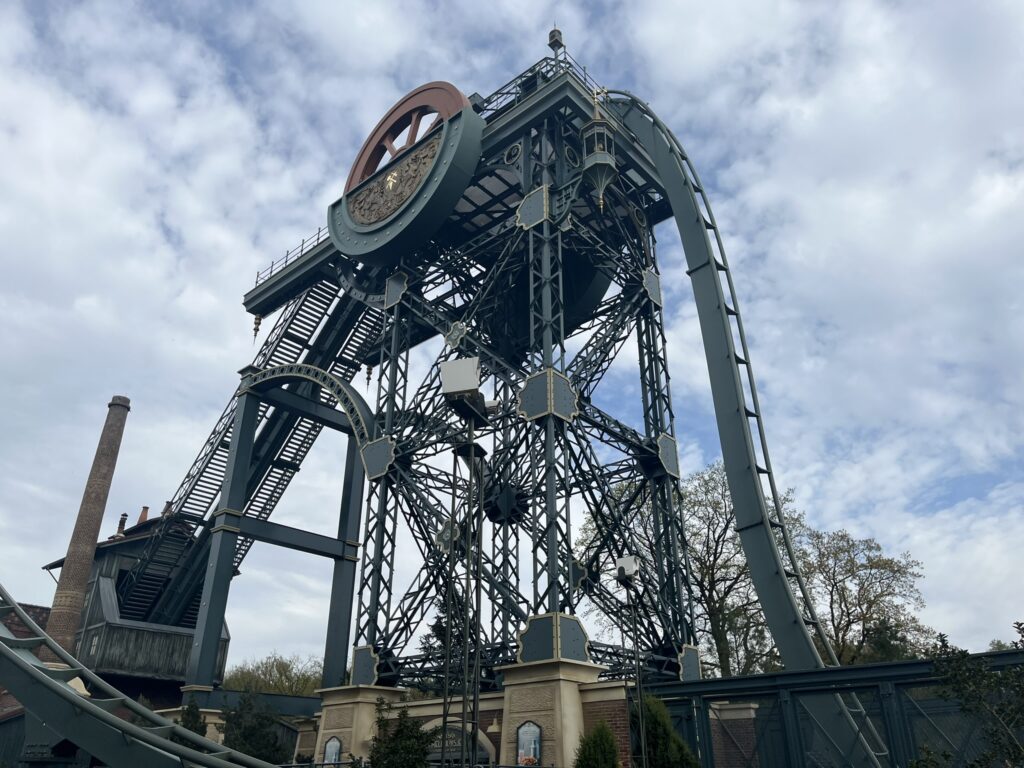 Efteling was less of a thrill coaster park and more… I don't know how to describe it, "interesting" maybe. A few good coasters and plenty of wacky dark rides, although it was an incredibly busy day we still had a great time.
Baron 1898: a B&M dive coaster, themed around a gold mine. If you could combine the drop off Oblivion with the rest of the layout of Baron 1898 you'd have a great coaster.
Joris en de Draak (Vuur/Water): A pair of GCI woodies, "George and the Dragon". Pick a side – Fire or Water – and the race is on. One of the coasters featuring a section of GCI's titan track, in an attempt to increase reliability. I enjoyed both sides, I think I preferred Fire.
I think I'd like to return (when it's a bit quieter) but I don't think I'd return specifically for Efteling – if I was in the area at other parks, I'd spend a day there.
Park 7 – Plopsaland De Panne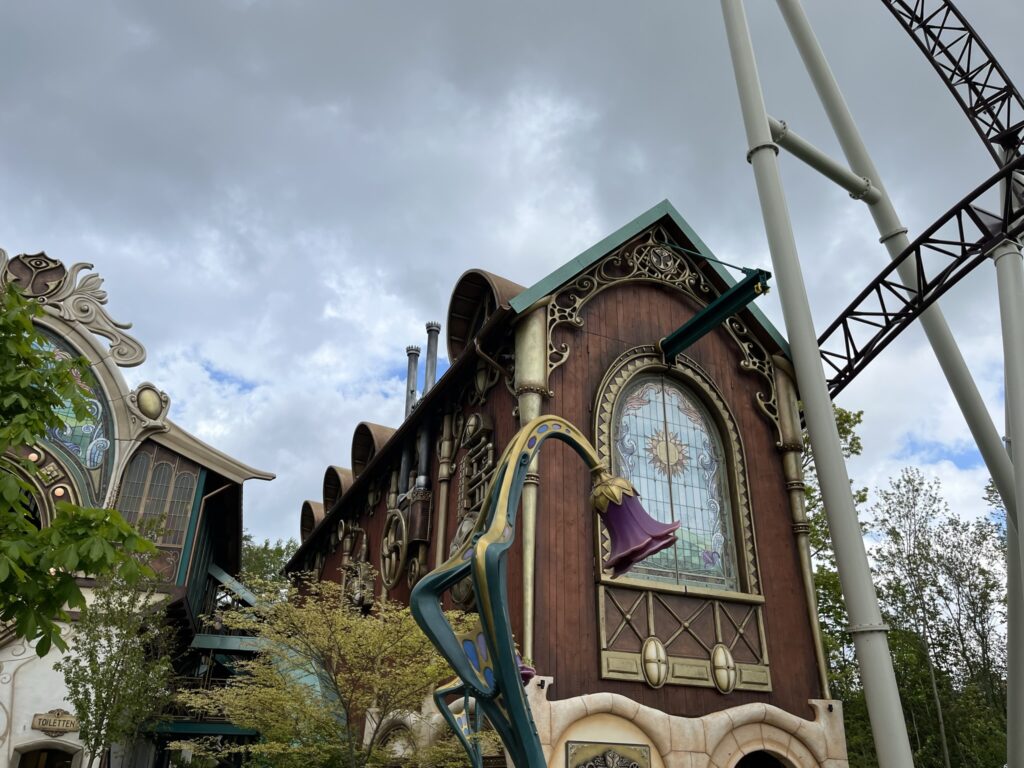 The last park on the trip, and besides Phantasialand this was the park I was most looking forward to, as I have heard good (and bad) things about Ride to Happiness. An odd selection of rides really, we started on Heide which is another GCI woodie, but with very short 12 seat trains, and it was running on one train and building quite a big queue. It was a decent woodie but nothing special really.
The ride I was most looking forward to, Ride to Happiness. This opened around 12pm andd quickly gained a 75 minute queue. It's a Mack Xtreme spinning coaster and unfortunately I only got one go on this (at the back). I thought it was brilliant but let down by the park operations – running a single train despite the huge queue. I'd like to see one of these built somewhere in the UK.
Anubis was another coaster I enjoyed, a Gerstlauer launch coaster. As with Taron, this was my first time experiencing a Gerstlauer launch and I was surprised it was almost as quick as the Intamin launch – why can't Mack make LSM launches like these??
I bought merch at most of the parks on this trip, and I wanted some RTH merch but at €45 for a t-shirt and €85 for a hoodie, I had to give it a miss.
Overall I left Plopsaland a bit disappointed as the artificially long queues for the bigger rides due to refusal to run two trains, followed by 20 minutes in the queue for the water coaster (advertised as a 5 minute queue), plus another 15 minutes due to technical difficulties, kind of ruined the day.
Top 10 Rankings
Following this trip, and my America trip, there's been quite a substantial change to my top 10 lists. This just goes to show how much we lack truly great coasters in the UK.
| | | |
| --- | --- | --- |
| 1 | Taron | Phantasialand, Germany |
| 2 | Kondaa | Walibi Belgium, Belgium |
| 3 | Untamed | Walibi Holland, Netherlands |
| 4 | Ride to Happiness | Plopsaland De Panne, Belgium |
| 5 | Goliath | Walibi Holland, Netherlands |
| 6 | Big One | Blackpool Pleasure Beach, UK |
| 7 | Black Mamba | Phantasialand, Germany |
| 8 | Fēnix | Toverland, Netherlands |
| 9 | Icon | Blackpool Pleasure Beach, UK |
| 10 | Nemesis | Alton Towers, UK |
Top 10 Steel – May 2023
| | | |
| --- | --- | --- |
| 1 | Troy | Toverland, Netherlands |
| 2 | Wild Mouse | Blackpool Pleasure Beach, UK |
| 3 | Grand National (lifthill right) | Blackpool Pleasure Beach, UK |
| 4 | Megafobia | Oakwood, UK |
| 5 | Loup-Garou | Walibi Belgium, Belgium |
| 6 | Joris en de Draak (Vuur) | Efteling, Netherlands |
| 7 | Joris en de Draak (Water) | Efteling, Netherlands |
| 8 | Classic Coaster | Washington State Fair, USA |
| 9 | Wicker Man | Alton Towers, UK |
| 10 | Big Dipper | Blackpool Pleasure Beach, UK |
Top 10 Wood – May 2023