Last week I attended the Microsoft MVP Summit in person, at Microsoft's campus in Redmond (near Seattle, Washington, USA). It was my first visit to America (and the furthest I've ever travelled). An 8 hour time difference meant jet lag hit me hard. My default mode is "sleepy, need sleep" so a 10 hour flight and 8 hour time difference made this even worse. I flew out on Monday, and returned on Friday evening. I had a conference on Tuesday, Wednesday and Thursday which left all of Friday morning and a little of the afternoon to go explore.
While everyone was saying I should check out the Space Needle or other things in Seattle, instead I opened Coaster-Count and looked at the map. A couple of parks in reasonable distance, unfortunately the larger park was closed however Washington State Fair in Puyallup was open! Obviously I chose this over looking at some buildings.
I didn't have a car (I don't want to even attempt to drive over there, wrong side of the road but also some right turns are allowed even when the lights are on red… confusing) but after a little research, I could reach Puyallup in just over an hour by taking two buses from the Seattle-Tacoma airport, for about $5.25 (or I could get an Uber there for over $100). So I set off to the fair and arrived about 9:50am, just before it opened.
The fair is a pay-per-ride system, with most rides requiring 10-14 tickets (at $0.60 a ticket). There was an offer of 120 tickets for $60 so I got this, so I could get plenty of goes on the coasters. Unusually for a fair, this park has permanent coasters which are only operated for a few weeks a year – during the Spring fair and the main fair in September.
First off – Classic Coaster. This is a classic coaster built in 1935 (although it has been completely rebuilt in phases, 2009-2013). Designed by John A Miller – who designed a lot of the early wooden coasters – but altered in 1950 to take the trains off a demolished coaster in another park. The first thing I noticed about this coaster was the trains – they look original. Not original from this ride, as they came from another park, but certainly a very old design. While they had lap bars, they didn't come down very far at all.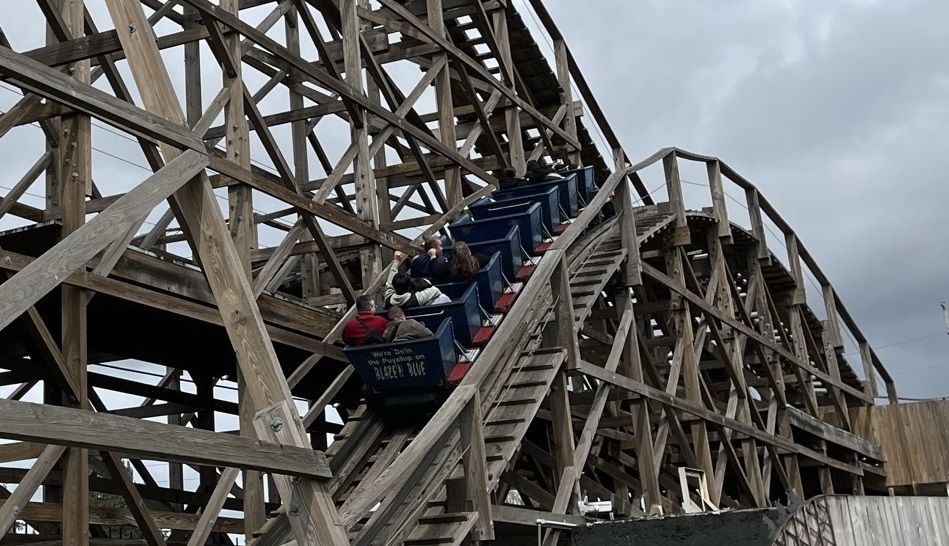 Now onto the ride itself. My first couple of rides were front seat, as it was rather quiet at the fair. It was what I expected from a 30s coaster, maybe a little smoother due to the rebuilding it had, but fast enough and a few pops of airtime. Riding a little later, this was running even better having warmed up a little.
Riding the back row it took me by surprise. Combine the back row with the lap bars and you're almost launched out of the seat at a couple of occasions. As I was sat on my own, at the right hand side, one drop I had to grab the bar as I was thrown up and left. A brilliant wild ride.
I next went to try out their other coaster, a Schwarzkopf Wildcat called Wild Cat. This coaster runs 4 seat trains (2 rows of 2), and requires all 4 seats to be filled for the train to be sent. This means single riders need to find 3 people to join on the ride – luckily there were 3 people waiting (and after I got off, there were another 3 people waiting so I got a re-ride).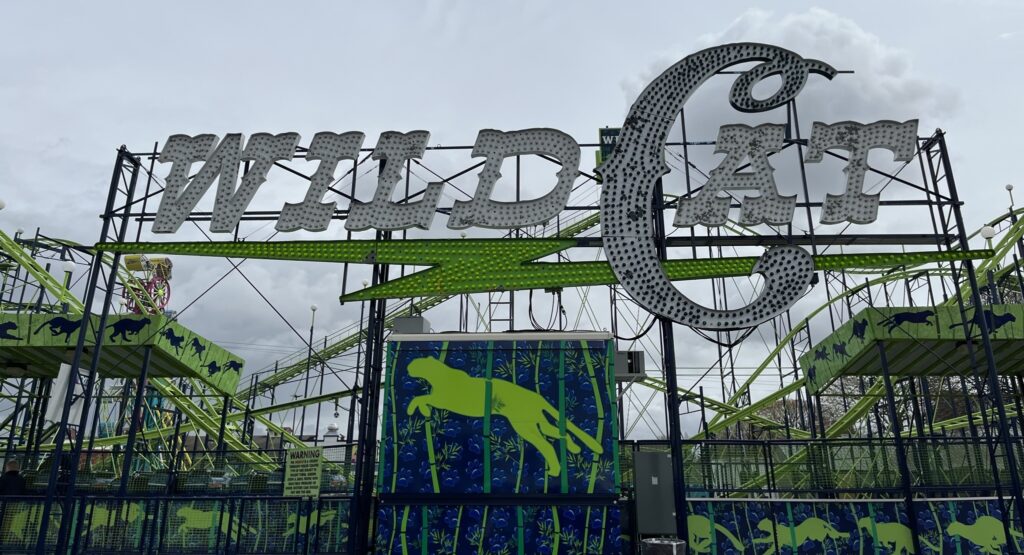 I don't think I've even been on a Wildcat before – it was a lot better than I was expecting. Some fast transitions and decent forces throughout the ride. At 13 tickets it was slightly cheaper than Classic Coaster, but after a couple of goes I went to spend the remainder of my tickets re-riding Classic Coaster.
Food at the fair was in line with what I'd found on my trip with everything – it just costs so much more compared to back home. I paid $19 (plus tip) for 3 chicken strips, chips, and a drink. At Blackpool Pleasure Beach I'd pay £7.95 (full price, it's about £7.07 with my 10% season pass discount) for the equivalent but with much 5 nicer, fresh chicken strips. They are smaller, yes, but the fact there's 5 makes up for that. I suppose the food and the rides are on par with Winter Wonderland in Hyde Park for prices.
A nice surprise trip, and a little odd how my only coasters outside of Europe are at this small fair in Puyallup, and it's likely to remain that way for some time!