At the beginning of June 2023 I went to Sweden for a few days, flying in to Gothenburg. The main reason for this trip was an 11am-10pm day at Liseberg, although I managed to get a few hours in Stockholm too.
On the Friday I took the express train to Stockholm, and went to Gröna Lund. The park was open 4pm-10pm but I had to leave around 7:30pm in order to get back to the hotel near Gothenburg. I was still able to get on all of the coasters except for the really small kids creds, and one of them twice.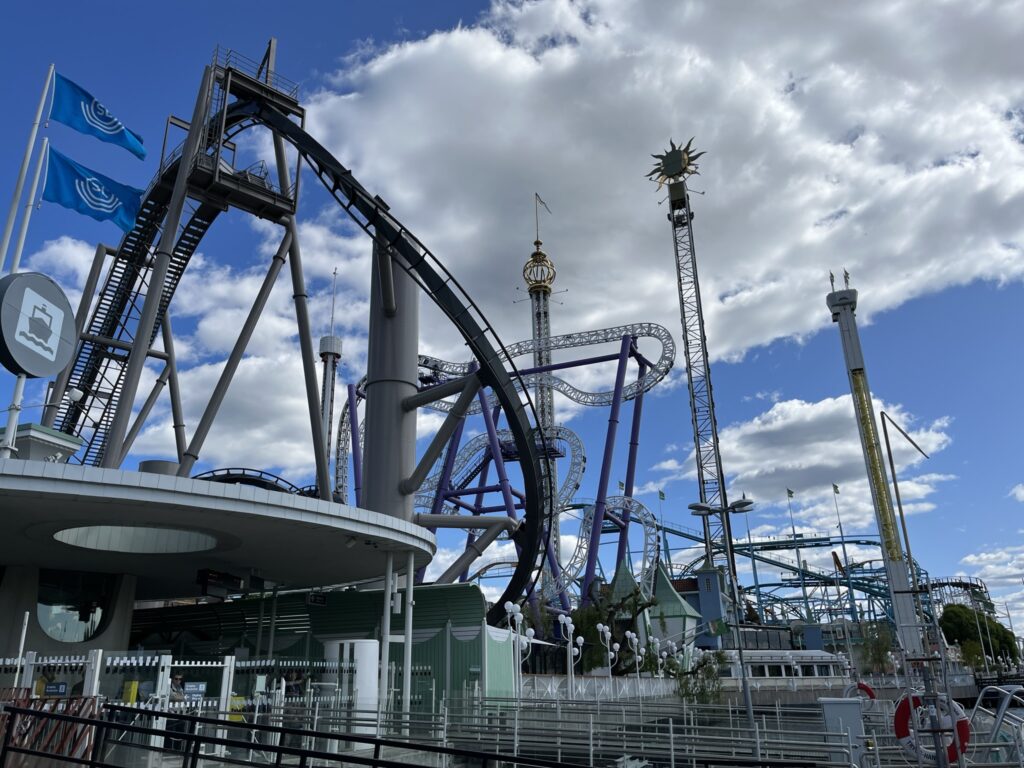 We arrived a little early so grabbed lunch outside the park and took in the views – such a compact park, it makes Blackpool Pleasure Beach look like Alton Towers in terms of space! I had a great few hours here, the coasters included:
Monster – a relatively new B&M invert. The newer B&Ms tend to be a bit lacking compared to the older coasters but this was a good ride.
Insane – an Intamin Zac Spin. I've never done one of these before, so had to give it a go. From watching an off-ride video of one of these I was expecting it to be awful. It was better than I expected but still not something I'd re-ride. If I were to go to another park and they had one, I'd still give it a ride.
Jetline – a classic Schwarzkopf and I think this was a clone of Knightmare at Camelot. I got two rides on this, a really fun coaster.
Unfortunately I didn't have time to go on any of the other rides – this place was full of drop towers – but I was happy with the selection of coasters I had got on. Following this we had a long journey back to Gothenburg and a late night, I think I got back to the hotel about 1am.
The next day was Liseberg day. While I had already visited Liseberg on the Thursday evening, today was the 'Your Experience Guide' event day. After arriving at around 9am at the park, we were taken to Balder where we had an introductory talk from the park's host, followed by getting to sign our names on the supports to the wooden coaster. Once we'd completed this, they sent one train round and we headed to the station for 1 hours exclusive ride time.
I am not sure how many rides I got during this hour, probably about 15, but it was a really good ride – such a fast coaster with plenty of air time.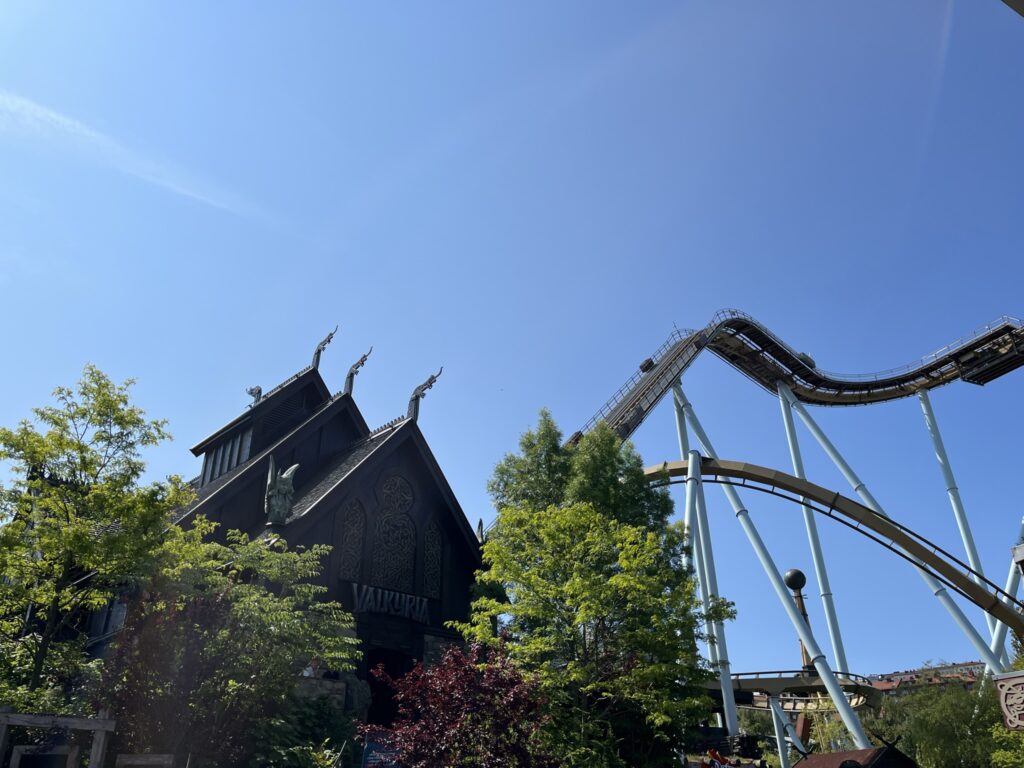 Following this the park opened at 11am, and we had free time to do what we liked until park close at 10pm. I chose to spend the day exploring by myself (and avoiding as many queues as possible). I discovered Valkyria (a B&M dive coaster) had a single rider queue which was not really used by anybody – so I had plenty of rides on this throughout the day. I also had a couple of goes on the big wheel (which had air conditioned pods! Lovely break from the hot weather) and took in the views over the park and over Gothenburg.
I really enjoyed Valkyria – it's another modern B&M but one with good pacing and just a fun ride. I think I much prefer this to Oblivion, perhaps if we could take Oblivion's much taller drop and put that into Valkyria, we'd have the perfect dive coaster.
Finally at 10pm it was time to head to Helix and, as the park closed to guests, we began our 1 hour takeover of Helix. As it was the end of a long day, many of the group dropped out rather quickly so I was able to stay on the train for most of the hour. Helix is a really good coaster, a Mack Rides multi-launch coaster with 7 inversions. It's fast and having ridden it, I now realise why Icon at Blackpool got such negative reviews when it opened – whilst both Mack multi-launch coasters, there is no comparison.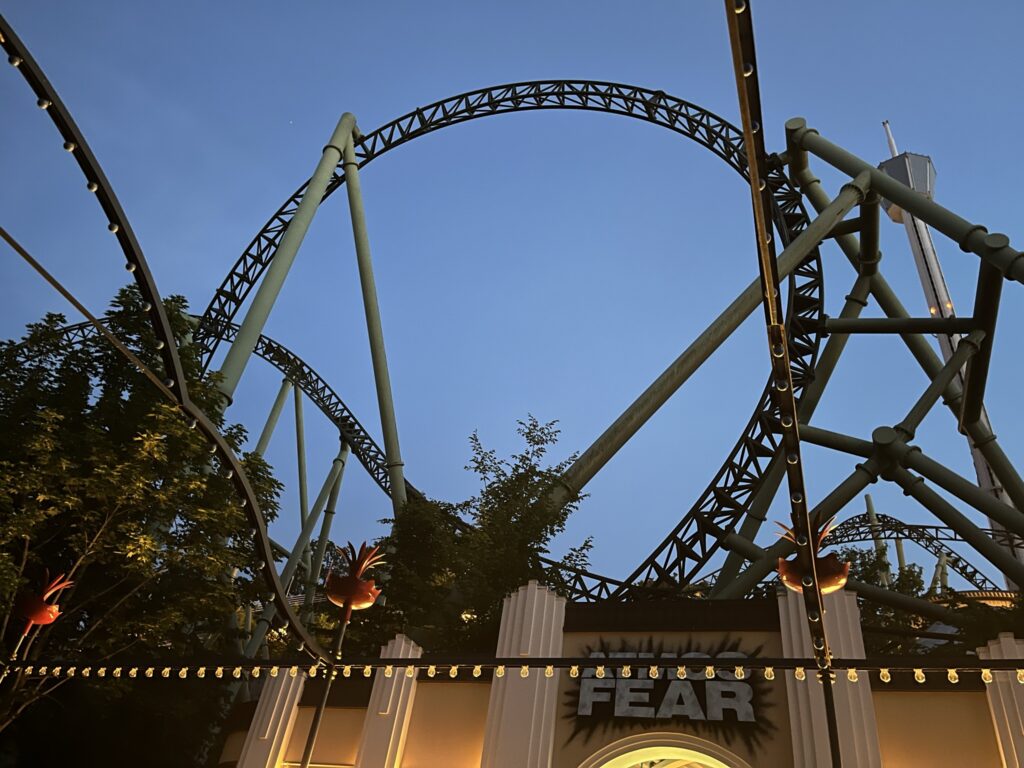 I had a really great trip to Sweden. Coasters and parks aside, it was a really nice country and I can't wait to return one day.
Top 10 Rankings
As I've visited another two new parks, my top 10 lists have had a little re-shuffle.
| | | |
| --- | --- | --- |
| 1 | Taron | Phantasialand, Germany |
| 2 | Helix | Liseberg, Sweden |
| 3 | Kondaa | Walibi Belgium, Belgium |
| 4 | Untamed | Walibi Holland, Netherlands |
| 5 | Ride to Happiness | Plopsaland De Panne, Belgium |
| 6 | Valkyria | Liseberg, Sweden |
| 7 | Goliath | Walibi Holland, Netherlands |
| 8 | Big One | Blackpool Pleasure Beach, UK |
| 9 | Fēnix | Toverland, Netherlands |
| 10 | Black Mamba | Phantasialand, Germany |
Top 10 Steel – June 2023
| | | |
| --- | --- | --- |
| 1 | Troy | Toverland, Netherlands |
| 2 | Balder | Liseberg, Sweden |
| 3 | Wild Mouse | Blackpool Pleasure Beach, UK |
| 4 | Grand National (lifthill right) | Blackpool Pleasure Beach, UK |
| 5 | Megafobia | Oakwood, UK |
| 6 | Loup-Garou | Walibi Belgium, Belgium |
| 7 | Joris en de Draak (Vuur) | Efteling, Netherlands |
| 8 | Joris en de Draak (Water) | Efteling, Netherlands |
| 9 | Classic Coaster | Washington State Fair, USA |
| 10 | Wicker Man | Alton Towers, UK |
Top 10 Wood – June 2023