Many parks re-opened for the 2023 season today, either with passholder preview days or fully open. Today I went to Blackpool Pleasure Beach, my local park, determined to get on the Big One following its fourth consecutive year of track replacement and see what a difference it has made.
The week building up to opening day has been mostly awful weather – so today we were very lucky to have low wind speed, reasonable temperatures and no rain for the majority of the day. With it being opening day, and a decent forecast, there was quite a crowd gathering from about 10:15am waiting for the park's 11am opening time. As usual there was people from Team Nick and the costume characters Bradley and Bella dancing for the crowds, before Amanda Thompson said a few words and opened the park for 2023.
Outside the main park, work was progressing on the new Pleasure Beach Store, which is replacing the old ticket centre within the Casino building. It's nowhere near ready yet – the ticket centre has been cleared out and the new shop has been painted and decorated, but is still waiting for shelving and stock to be put in, but it will be nice to see such a large space filled with the various merch and hopefully it will be open after the park has closed.
My first stop of the day was the Kiss Me Quick shop, where I discovered some Big One wheels for sale. When I arrived at about 11:15 there were three of the 6″ wheel and four of the 12″ wheel, the 6″ did not have a price but the 12″ were marked up at £150 – quite expensive considering how much they were sold for a few years ago when they first started selling ride parts. As I've been desperate to get my hands on a wheel from my favourite coaster, I grabbed one of the 6″ wheels – it turned out to be £80, so £72 with my season pass discount, and now sits on one of my rollercoaster shelves in my home office.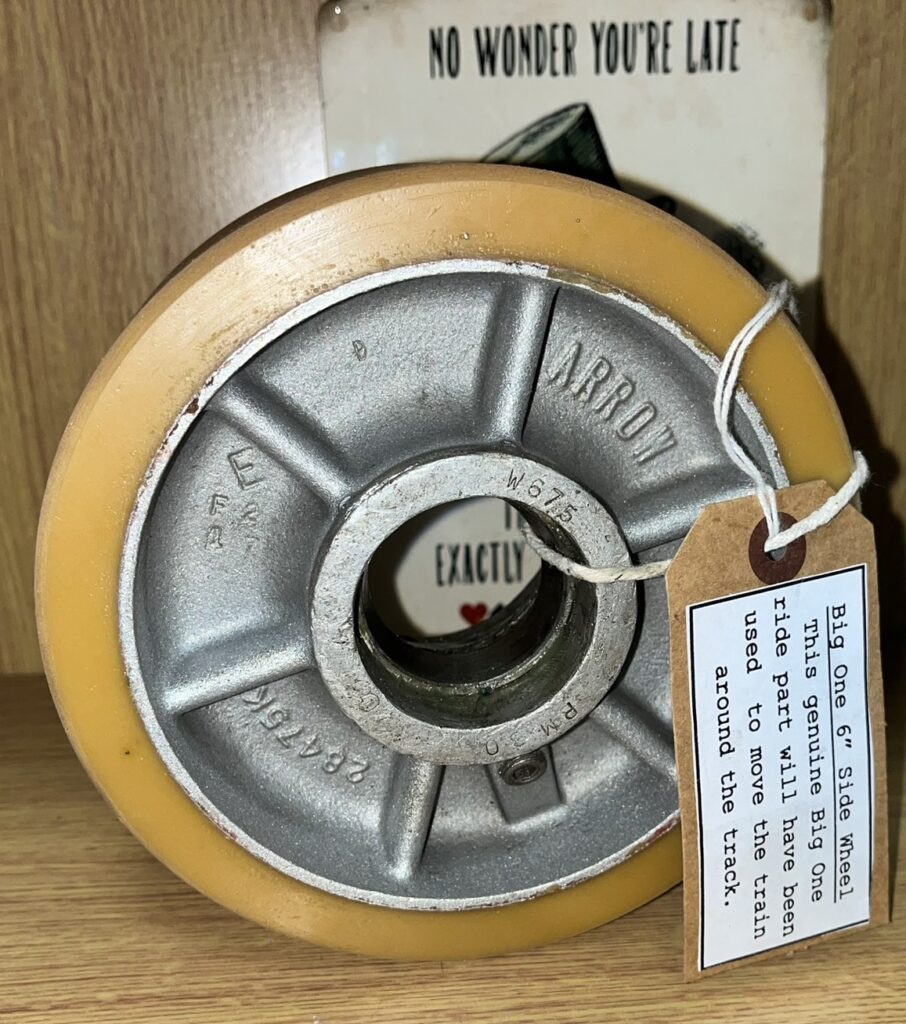 Overall the park was fairly busy, with Icon's main queue mostly going back to the gate at the start of the queue line but with Icon running two trains this didn't take too long, and the Big One's queue through the extensions – so probably a 90 minute queue as it was running a single train service. I skipped this with the Speedy One Shot (one-go fast track for a single ride, £12 for the Big One).
Notable rides which were unavailable are Valhalla (to re-open around April following its refurbishment) and Big Dipper, which is currently being re-painted and having a lot of trackwork done on the section by Steeplechase).
The Big One was riding very well, and the difference over the new sections of track is amazing. This winter dip 4 had approx 100m of track replaced, this is the section behind the Infusion station. Anyone who is familiar with the Big One will remember how loud and rattling that dip is, along with the awful jolt left behind by previous trackwork as the train crests the hill between dips 4 and 5. This is completely different now, the train glides quietly and smoothly along the new track, and the transition onto the old track.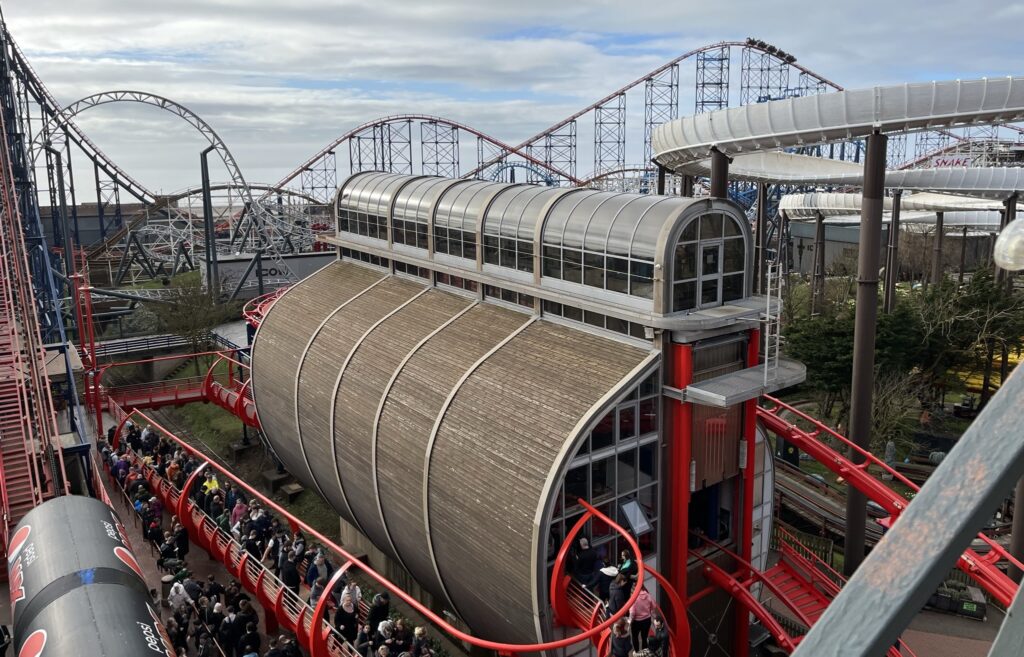 In no specific order and a probably incomplete list (I can't remember, and I don't count individual rides, only coasters – and all the Pleasure Beach coasters were added to my count a long time ago), I got on:
Icon
Steeplechase
Pleasure Beach Express
Grand National
Big One
Revolution
Avalanche
Alice Ride
Overall it was a wheel-y good day (ha ha ha) and it was so nice to be back on park after what felt like a very long closed season! Next stop, Thorpe Park on Friday.