Thorpe Park started their 2023 season on Friday 24th March and I took the long trip down there. As usual for me at Thorpe, it was a mixed day – long queues on some rides, poor availability on others (Nemesis Inferno seemed to be down for most of the day). I don't really like the operations all that much these days – coasters that have operated fine in the rain for well over a decade now close when there's the slightest bit of water in the air.
Highlights of the trip were getting on The Swarm (twice) – running on two trains which made the queue move quickly. I think it's an under-rated coaster, I quite like it, and as it's usually closed, or running on a single train with a huge queue, on my visits it was great to have two goes. Multiple rides were also taken on SAW by way of the single rider queue – they need to bring these back on more rides. I really like SAW although I think this is more to do with the theme rather than the coaster itself – I've found back row is fine, front row I end up with a headache.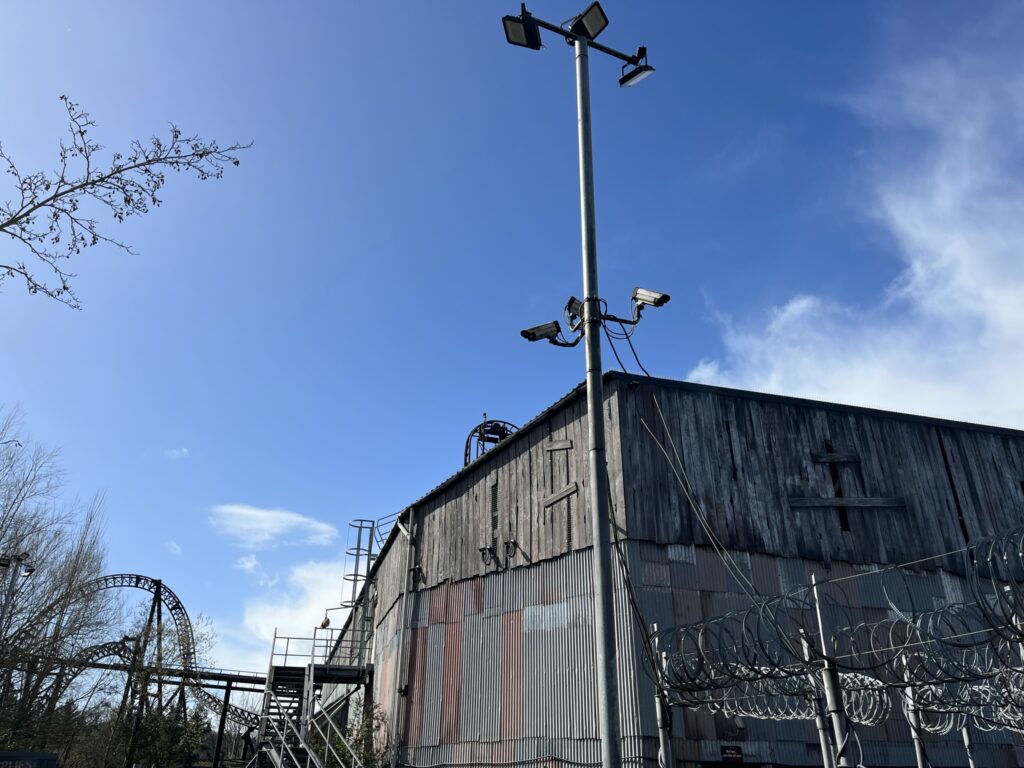 This year The Walking Dead now has a single rider queue, but it would be great if this came back on Stealth – it used to have one, so there is room in the station. There's four sets of steps going up to the platform – scrap the front row queue, which doesn't seem to be used any more, leaving enough for main queue, fast track, disabled and single rider.
Colossus was closed all day – currently having a few track sections replaced by Taziker, who have provided approx 400m of track to Blackpool Pleasure Beach for the Big One over the last 4 closed seasons – Thorpe Park plans to phase the retrack over multiple years. Hopefully when this re-opens the new track sections will make the ride much more bearable (and less headache inducing), although I suspect it would need new trains to improve the experience sufficiently.
Unfortunately we never got to go on Nemesis Inferno or Stealth – both had either a long queue or were closed – but I did get on a couple of the water rides. I've never been on any of the water rides at Thorpe Park (besides Logger's Leap) so it was good to try the rapids – seemed to be a bit more rough (as in how the water looked) than the Alton Towers rapids, luckily I didn't get too wet. Finally we headed to Storm Surge and the advertised 0 minute queue took about half an hour. Unfortunately the rafts don't drain, and there is no vac in the station to remove the water, so there was about 5cm deep water in the centre of the raft where we had to put our feet. Head up the lift and it all moves to the back, overflowing the top of my shoes and filling them. I usually wear waterproof hiking boots, so these were now full of water which wasn't going to drain away. Rather annoyed at the level of water stuck in the raft, it cut the day short (and as I write this almost 36 hours later, my shoes still have not dried).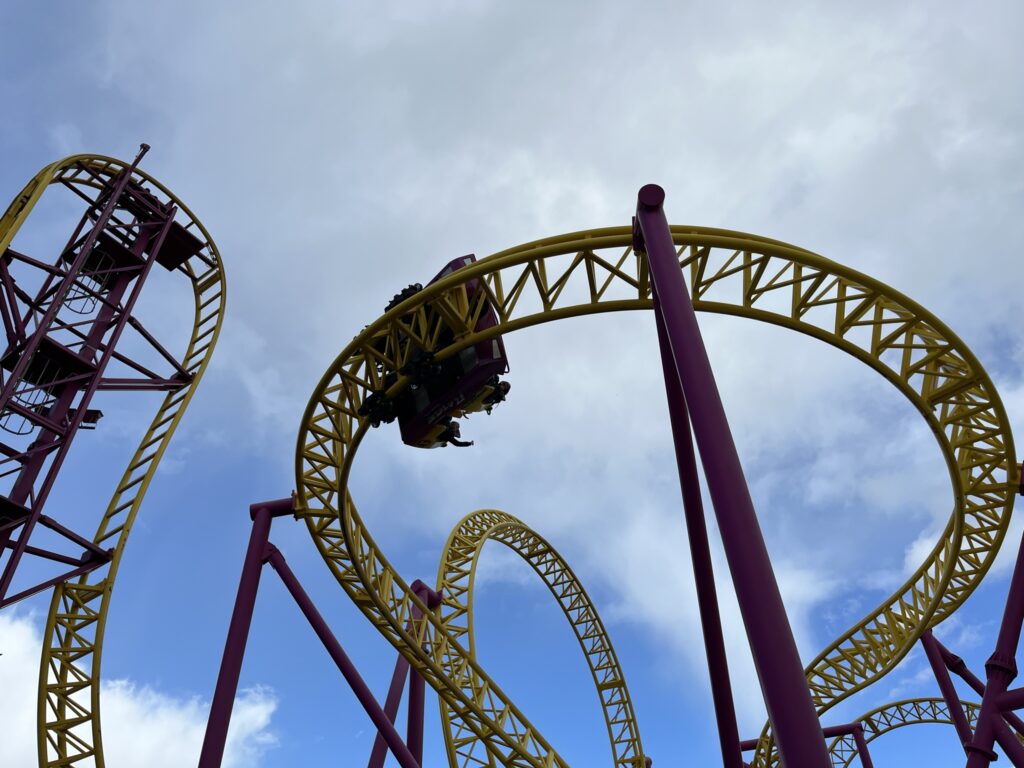 I've never been to Adventure Island, so decided while I was down in the South I'd add a day onto the trip and pay it a visit. Five coasters to tick off, I was hoping to get a few goes on Rage with it being the only big coaster there. Wristbands were £28 or ride tickets £3 each, we decided to buy tickets as only planned 3 hours at the park. After arriving at about 12:30, the queues were not too bad – Rage had enough people in the queue to fill two ride cars – so we got this done first. Shorter than SAW in both height and ride length, it was not as rough as I was expecting for an old Eurofighter. I quite liked this, and was hoping to give it a few re-rides later on in the day.
Following this we had a go on each of the other four coasters, and then went for lunch off park. Returning a little later, Rage's queue had grown to about 30 minutes – it was only running a single car, with cars 2 and 3 sat on the transfer track. A shame they didn't put a second on track as this short queue was very slow moving and ate into the time.
One thing that was rather strange was the operations – on the coasters, people are not batched into the air gates until the train has arrived in the station and been emptied, despite the rides exiting to the opposite side of the air gates. This and the "Welcome to RideName, my name is Name and I'll be your ride host today. Are you ready?" etc really slowed things down. Away from coasters, we tried to get on Axis before we left and this was even more strange – a spinning ride with I guess about 20 seats, the ride operator would ask the group size, then take the group of 2 or 3 people (or however many they were) to some seats. Then come back and repeat for the next few people in line. Surely it would make sense to let through enough people to fill the seats, then go and check restraints etc… this was such a slow process we had to leave the queue to beat the traffic wardens to the car as the parking was due to expire soon.
It's probably not somewhere I will return to, but it was good to visit a new park and tick off 5 coasters on coaster-count.